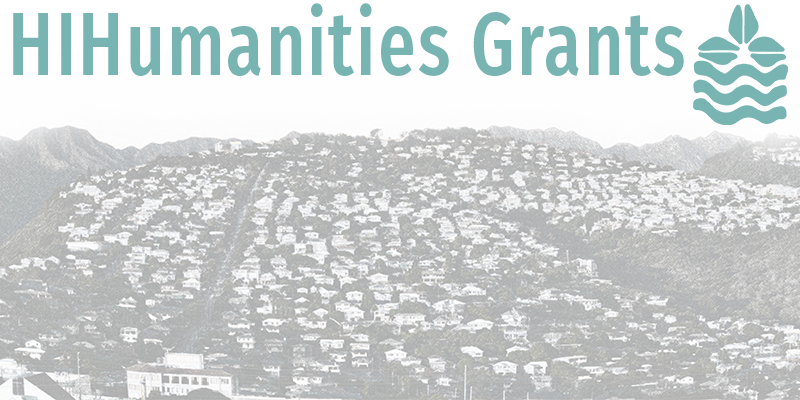 Spring 2021 HIHumanities Grantees!
We are so pleased to announce our Spring 2021 Grants Awardees!
IN PRESERVATION AND ACCESS GRANTS:
Navigating Change: Finishing the Work of Eddie & Myrna Kamae to Share the Layered Stories of Lahaina
Hawaiian Legacy Foundation
$10,000
This grant will support the preservation and digitization of analog raw video tapes from the award-winning documentary, Lahaina: Waves of Change, produced by Eddie and Myrna Kamae. This important footage will be made available to researchers through an online database.
Preserving and Providing Access to Hawaii's Plantation Village Photograph Archives Collection
Friends of Waipahu Cultural Garden Park dba Hawaii's Plantation Village
$10,000
This project will preserve, digitize, catalogue three collections of photographs of Waipahu related to the sugar industry, which will then be made accessible to researchers and the larger Waipahu community.
Preserving the William S. Richardson Archival Collection
William S. Richardson School of Law Library
$10,000
The preservation of the personal and judicial papers of Hawai'i State Chief Justice William S. Richardson will be the main goal of this project, in addition to creating a finding aid for those who wish to access the preserved collection.
Pūʻali Moʻolelo
Kōkua Kalihi Valley Comprehensive Family Services
$10,000
This project will consolidate and digitize the organization's collection of photographs, and educational materials and will provide public access through the construction of an online searchable database.
Revealing the works of the "Cosmic Dancer" through digitization of the Mitsuo Aoki Collections
University of Hawaiʻi
$10,000
This project will preserve the papers of Reverend Mistuo Aoki, along with the raw footage related to his documentary series Living Your Dying. These resources will also be made available though an online searchable database.
Waikalua Loko Fishpond Oral History Project: Looking to the Past to Chart Our Way Forward
Pacific American Foundation
$10,000
The main goal of this project is to preserve the histories, oral and textual, of the Waikalua Loko I'a Fishpond Preservation Society. An integral part of this project is the development of a searchable online archive.
IN PUBLIC HUMANITIES GRANTS:
A King in Paradise
Chaminade University of Honolulu
$10,000
This project involves researching the production of photo and audio documentation tracing the journey of Dr. Martin Luther King Jr. during his 1959 visit to Honolulu. The results of this research will culminate in exhibition which will include narration by Honolulu's Black and African American community leaders.
Closed Loop Creative Labs
Krause Family Foundation: 'Alana Ke Aloha
$10,000
This program will offer a workshop series for youth and adults that focuses on applying the humanities, arts, and culture to discussions on issues related to climate change, its impact on us, and our impact on the climate.
Echoes of Oceania
Kōkua Kalihi Valley Comprehensive Family Services
$10,000
This project will produce two illustrated books on Micronesian oral stories intertwined with the hosting of public literacy programs and the distribution of these books to libraries and schools.
Hana No'eau
Hana Arts
$10,000
This program will create a series of humanities events exploring Hana-East Maui Hawaiian cultural traditions and sacred sites through discussion lessons and creative expression utilizing visual and performing arts.
Hoili Ho'oilina Training Program
Ka Ipu Makani Cultural Heritage Center
$10,000
This will be a public collection management education program, which draws on the expertise of local cultural practitioners, who will teach community interns how to identify and manage primary resources regarding the collective history and culture of Moloka'i.
Kealohi: A Journey In Time
Hui o Ko'olaupoko
$10,000
To enhance the restoration work of the Heʻeia estuary, this project will research the history and place-based mo'olelo about the site, and then use this work to create a brochure and additional tour programs.
Kēhau: Summer Music and Moʻolelo Series
Kona Historical Society
$10,000
This program will produce a concert and discussion series featuring Kona musicians. As part of their music performances, the musicians will offer connection to their personal histories and sense-of-place to Kona. The resulting concert and discussion recordings will be made available online.
ProArts Hawaiian Arts and Culture Series
ProArts, Inc.
$10,000
This program will create a recorded Hawaiian culture and arts series on the island of Maui that incorporates conversations and storytelling, including cultural practitioners and subject-experts.
Read More