Upcoming Hawaiʻi History Day Events:

Thank you everyone!
Thank you for joining our 2021 Hawaiʻi History Day Virtual State Fair! We were so happy to celebrate the amazing achievements of our students and teachers in our special program this past Saturday. Our team is hard at work, and in the coming days and weeks, we will be continuing to unveil new and exciting resources, stories, and programs. Stay tuned for more! In the meantime, here are our results form the 2021 Hawaiʻi History Day State Fair! Thank you all so much again for your support!
---
What is Hawaiʻi History Day?
Hawai'i History Day, a state affiliate of National History Day (NHD), is a year-long history education program that invigorates the teaching and learning of history in grades 4-12. It promotes a theme-based, research-centered model for history and civics education. Students present their projects in an exhibit, performance, documentary, essay, or website project. History Day culminates in the presentation and evaluation of these projects at school, district, state and national history days.
In 2019-2020, Hawaiʻi Council for the Humanities is celebrating 30 years of Hawaiʻi History Day programming. What a wonderful ride it's been so far! We are immensely  privileged to be working with grade school, middle school and high school teachers in Hawaiʻi, who work so hard enriching the lives of our children. Teachers and schools who participate in Hawaiʻi History Day go above and beyond the call helping their students work on projects that take months of research and preparation, a rare opportunity for many students. The goals of our program are to offer teacher and students another path towards broadening historical perspectives and deepening understanding of the stories of our past, the complex and beautiful moʻolelo that make up our human experience.
As an introduction to our program (or perhaps a nostalgic reflection, if you are already part of our Hawaiʻi History Day community), please enjoy this beautiful video, lovingly put together by Dorian Langi, who has been a dedicated volunteer to Hawaiʻi History Day for many years. Mahalo nui, Dorian, for such a caring testament to this work and this program.
Three Divisions
Senior Division: Students in grades 9-12
Junior Division: Students in grades 6-8
Youth Division: Students in grades 4-5
Five Different Formats
Exhibit
Performance
Documentary
Essay
Website
Who can participate?
Public, private, charter, and home school students in grades 4-12 are eligible to participate in the Hawai'i State DOE District in which their school is located.
---
Hawaiʻi History Day News
2021-2022 Hawaiʻi History Day Calendar and Theme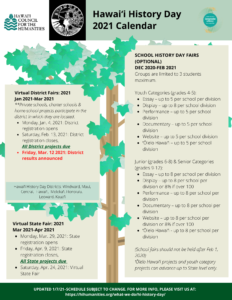 This year, the theme for History Day is "Communications in History." For more details on the theme for this year, see the 2020-2021 theme description. Also, click the Calendar link to see our most recently revised schedule for 2021.

Hawai'i Students Take Top Honors at 2020 National History Day Virtual Competition
June 26, 2020–As the National History Day (NHD) competition came to an end, Hawaiʻi's 52 competitors took home top awards in the nation, including one gold medal, one silver medal, and one bronze medal. This year Hawaiʻi's delegation consisted of 52 State finalists, from O'ahu, Kaua'i, Maui, Moloka'i, and Hawai'i Island, who competed against just under 3,000 students from across the country and around the world. 
"To make it to the National Contest in a normal year is a remarkable achievement," said NHD Executive Director Dr. Cathy Gorn. "Given the unprecedented challenges that faced students over the last several months, I am even more impressed by what they achieved this year."
The local NHD affiliate, Hawaiʻi History Day (HHD), is a year-long project-based educational program, where students grades fourth through twelve dive deeply into a historical topic of their choice, creating a research paper, documentary, performance, exhibit display board, or website, and developing critical thinking skills valuable for college and careers. This year they undertook extensive research on the theme: "Breaking Barriers in History," looking at moments when the path of our society was forever changed. More than half a million middle and high school students, from the US and around the world, compete in the National History Day program at their local level.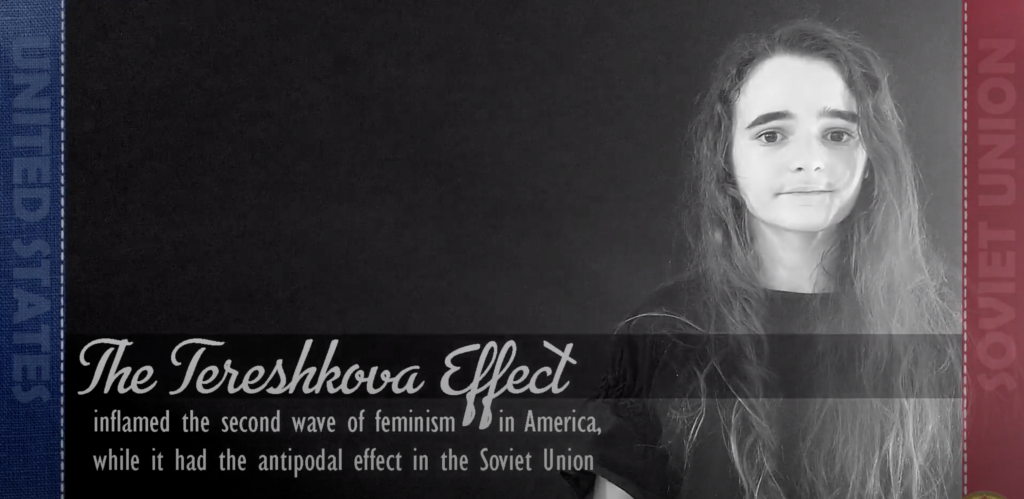 This year, 16-year-old ʻIolani high school student Summer Royal captured the National History Day gold medal for her senior-division documentary: The Tereshkova Effect: The Role of Propaganda in Breaking Barriers.
Read More