Current News and Events
Kickoff Recording and New Resource Padlets:
We are happy to share the recording of our 2023-2024 Virtual Kickoff from this past Saturday (10/30/23). For your convenience, timestamps have been added so that you can easily navigate to specific chapters and presentations you wish to see. Also, check out our new teacher and student resource Padlets below. Happy History Day!
Launched on the day of our Kickoff, these 2024 resource Padlets for students and teachers are your one-stop shop for the resources you can use this season. Check these frequently for updates and new materials!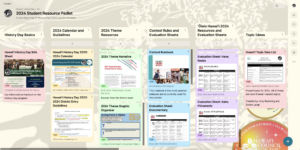 Click here to access our Student Resource Padlet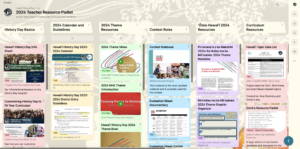 Click here to access our Teacher Resource Padlet
Upcoming: Hawaiʻi History Day Kickoff & Pre-season Survey:
We are always looking to hear your thoughts. This pre-season survey will help us to plan our events and activities even better.
2023-2024 Hawai'i History Day Calendar and Project Guidelines
We have released our new calendar and Entry Guidelines for Hawaiʻi History Day 2023-2024!
Please note that all of our calendar dates, locations, and formats (in-person/virtual) are subject to change. If you have any questions for us, please feel free to reach out to us at historyday@hihumanities.org. E mālama i ka moʻolelo–Let us care for our history!
2023-2024 Hawaiʻi History Day Theme Resources
This year, the theme for History Day is "Turning Points in History." For more details on the theme for this year, see the 2023–2024 theme description.
2024 Hawaiʻi–Specific Topics
Need topic ideas for your project? See this year's list of project Hawai'i-specific project topics that connect to the theme Frontiers in History: People, Places, Ideas. You are not required to do Hawai'i-specific topics, but it is great to explore the history in our backyard!
Click here to see our Hawai'i-specific topic list
---
We Are Back from Nationals!

It has been a busy series of events for Hawaiʻi History Day! Having successfully competed at district and state fairs, the students, teachers, and families who advanced in the Hawaiʻi History Day competition went on to compete and share their work at the National History Day competition, at College Park, Maryland. From June 10th to June 17th, our Hawaiʻi delegation of over 89 students, teachers, parents, chaperones, and staff participated with 2,644 students from National History Day affiliates in every state, along with students from affiliates in American Samoa, China, Guam, and Korea.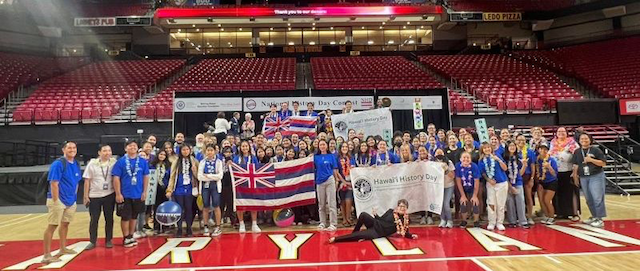 Pictured Above: The Hawaiʻi delegation of History Day students pose for group photos after the National History Day Competition award ceremony, at College Park, Maryland.
We are so proud of the accomplishments of our students, teachers, and families. In Maryland and back home, we have heard many people express how much Hawaiʻi's students and teachers have achieved this year at National History Day. In the midst of over fifty affiliates entering and hundreds of projects per category, Hawaiʻi students and their projects were recognized, ranking among the top ten in the nation. Hawaiʻi students also received special national awards, and some were selected out of hundreds of entries, to showcase their projects at Smithsonian institutions around Washington, D.C. In addition, U.S. Representative Jill Tokuda, an alumnus of History Day herself, requested several student projects to be displayed in her congressional offices in Honolulu and Washington D.C. At the national level, we also had one of our Hawaiʻi History Day teachers, Sarah Razee, recognized as the recipient of the 2023 Patricia Behring Teacher of the Year Award for the Senior Division, an award given to only one teacher out of all the teachers across the nation who applied.
This trip also marked a special moment for us, as our ʻōlelo Hawaiʻi students, teachers, and families were able to showcase their projects in person, both at College Park, Maryland, and in Washington, D.C. The project showcase featured at the Smithsonian National Museum of the American Indian included native Hawaiian protocol, consisting of oli, hula, and music. This inspirational showcase  brought audience members to tears.

Pictured Above: Students showcased their ʻŌlelo Hawaiʻi projects at the Smithsonian National Museum of the American Indian.
For some students, this experience was their first trip to the U.S. continent, away from Hawaiʻi. Many students have expressed how this trip broadened their horizons, and that they were so excited to have the chance to meet new people from different schools from across the state and across the nation. The unforgettable experiences our students had are all due to support provided by our extended Hawaiʻi History Day family and communities. From judges, donors, and consultants, to teachers and families, so many people have come together to make this trip a reality. Witnessing the moments of achievement and personal growth in the life-changing experience of going to National History Day is so inspiring, and we know that it takes many people working together to achieve so much. We are truly grateful.
To read more about our trip, click here.
---

Hawaiʻi History Day 2023 State Fair: Results and Community Awards
Thank you for joining our 2023 Hawaiʻi History Day State Fair! We were so happy to celebrate the amazing achievements of our students and teachers in our special program. Below, you can see our results, community awards, and project showcases. Stay tuned for more, and thank you all so much again for your support.
State Fair Virtual Project Showcases (Please note that Exhibits and Performances may have written materials only). *Please note: The projects in these Padlets may be District level projects, and may not reflect the final project revised and submitted at the State level.
Read More