Hawaiʻi History Day Current News and Events:
2021-2022 Hawaiʻi History Day Calendar: We are excited to release our new calendar for Hawaiʻi History Day 2021-2022 in both a poster version and a print-friendly version! Click here for a print-friendly version.*Please note that some dates and locations may be subject to change. Please email historyday@hihumanities.org for more information.
---
Upcoming Events: 
Join us for our upcoming events in the coming months!
Debate and Diplomacy Speaker Series: A new and exciting workshop series, exploring the History Day 2021-2022 theme "Debate and Diplomacy"! Join community leaders and experts from across Hawaiʻi and learn about history through different fields and perspectives such as law, politics, labor, diplomacy, water rights, and more. Our next session will be Thursday, September 16, 3:30-5:00 PM, and will include four speakers presenting on two topics: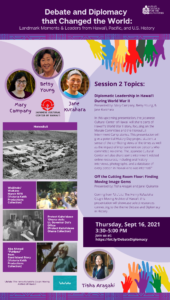 Topic #1: Diplomatic Leadership in Hawaiʻi During World War II
Topic #2: Off the Cutting Room Floor: Finding Moving Image Gems
Click here to join our upcoming session!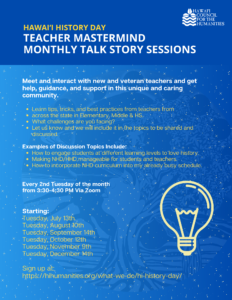 Teacher Mastermind Session: Get a head start on the new school year! For teachers interested in doing History Day and looking for support from a strong community, join our Teacher Mastermind Session! This session will feature veteran teachers who will share helpful tips and tricks for teaching History Day.
Mastermind Sessions on: Aug. 10, Sept. 15, Oct. 12, Nov. 9, Dec 14.
Our next session will be on Tuesday, September 14. 3:30–4:30 PM
Nakem! Filipino & Filipino-American History, Culture, and Food in Hawaiʻi: Looking for resources to teach and learn on Filipino history and culture? Join us for this exciting virtual student and teacher workshop series led by Filipino Scholars who will cover Filipino & Filipino American History, curriculum, resources, and interactive activities to use in your K-12 classrooms. In order to give more people a chance to join us, we have split our initial workshop into a series of 3 sessions! Learn more about them below.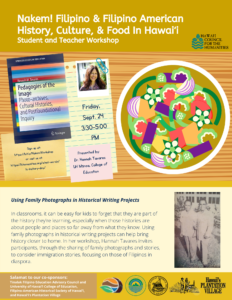 Session 2: Using Family Photographs in Historical Writing Projects, Friday, Sept. 24
Presented by:Dr. Hannah Tavares, UH Mānoa, College of Education
In classrooms, it can be easy for kids to forget that they are part of the history they're learning, especially when those histories are about people and places so far away from what they know. Using family photographs in historical writing projects can help bring history closer to home. In her workshop, Hannah Tavares invites participants, through the sharing of family photographs and stories, to consider immigration stories, focusing on those of Filipinos in diaspora.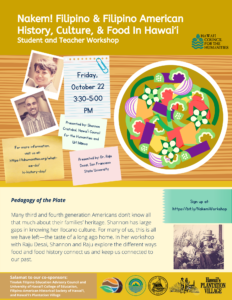 Session 3: Pedagogy of the Plate, Friday, October 22
Presented by: Shannon Cristobal, Hawaiʻi Council, for the Humanities and UH Mānoa, and Dr. Raju Desai, San Francisco State University
Many third and fourth generation Americans don't know all that much about their families' heritage. Shannon has large gaps in knowing her Ilocano culture. For many of us, this is all we have left—the taste of a long ago home. In her workshop with Raju Desai, Shannon and Raju explore the different ways food and food history connect us and keep us connected to our past.
---
2021-2022 Hawai'i History Day Kickoff Videos
We were so glad to see our teachers, students, and friends at our Hawai'i History Day 2021-2022 Virtual Kickoff on Friday, August 13. For those who couldn't make it, no worries! We have put together a video series so that you can watch our Kickoff presentations!
Part 1, presented by Shannon Cristobal, is an introduction to our program, and a sharing about upcoming events. Watch part 1 below.
Part 2, presented by Dorian Langi, is a presentation on getting started with History Day. In this video, you will find useful tips to start a project. Watch part 2 below.
Finally, part 3, presented by Shannon, Dorie, and Devin, is a tour of the Hawai'i History Day website. In this segment, you will also see the resources available to teachers and students. Watch part 3 below.
We have also put together a special 2021-2022 Kickoff Padlet, which contains a compilation of resources taken from the 2020-2021 season. Consider it a one-stop shop of resources! Visit it here.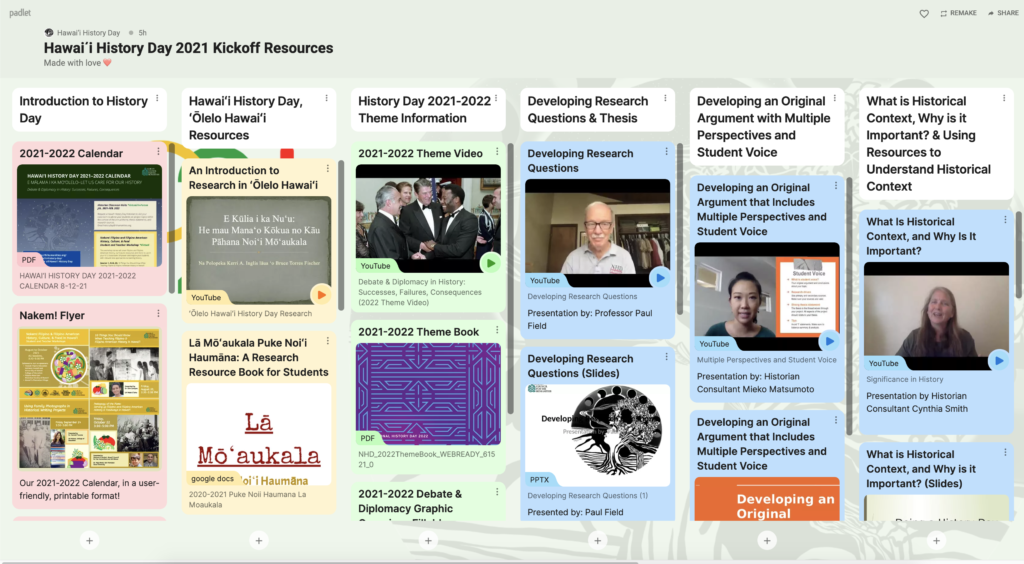 For more resources, visit our Teacher Resource Page here.
If you need any support, feel free to contact us at historyday@hihumanities.org. Have a safe and happy beginning to the new school year!
---
2021-2022 Hawaiʻi History Day Theme Resources

This year, the theme for History Day is "Debate and Diplomacy in History: Successes, Failures, and Consequences." For more details on the theme for this year, see the 2020-2021 theme description. Also, click the Calendar link to see our most recently revised schedule for 2021.
---
Read More